[EXA] DELL 1000BASE-T Copper 호환 광모듈
-RJ45, 랜
모델변호: EXA-1G-3401G-DEL

델, 1000BASE-T Copper SFP Transceiver, 1.25Gb/s, Cat-5 UTP Cable, 100m
Features:
 Up to 1.25Gb/s bi-directional data links
 Hot-pluggable SFP footprint
 Extended case temperature range (0°C to +85°C )
 Fully metallic enclosure for low EMI
 Low power dissipation
 Compact RJ-45 connector assembly
 Detailed product information in EEPROM
 +3.3V single power supply
 Access to physical layer IC via 2-wire serial bus
 Compliant with SFP MSA
 Compliant with IEEE Std 802.3TM-2002
 Compliant with FCC 47 CFR Part 15, Class B
 RoHS Compliant Products

Applications:
 1.25 Gigabit Ethernet over Cat 5 cable
 Switch/Router to Switch/Router Link
 High speed I/O for file severs

Description:
EXA-1G-3401G 1000BASE-T copper SFP transceiver is high performance, cost effective module compliant
with the Gigabit Ethernet and 1000BASE-T standards as specified in IEEE 802.3-2002 and IEEE
802.3ab, which supporting 1000Mbps data rate up to 100 meters reach over unshielded
twisted-pair category 5 cable. The EXA-1G-3401G supports1000 Mbps full duplex data-links with 5-level
Pulse Amplitude Modulation (PAM) signals. All four pairs in the cable are used with symbol rate at
250Mbps on each pair. The EXA-1G-3401G provides standard serial ID information compliant with SFP
MSA, which can be accessed with address of A0h via the 2-wire serial CMOS EEPROM protocol. The
physical IC can also be accessed via 2-wire serial bus at address ACh.
* DELL 1000BASE-T COPPER 광모듈 모델명
1000BASE-T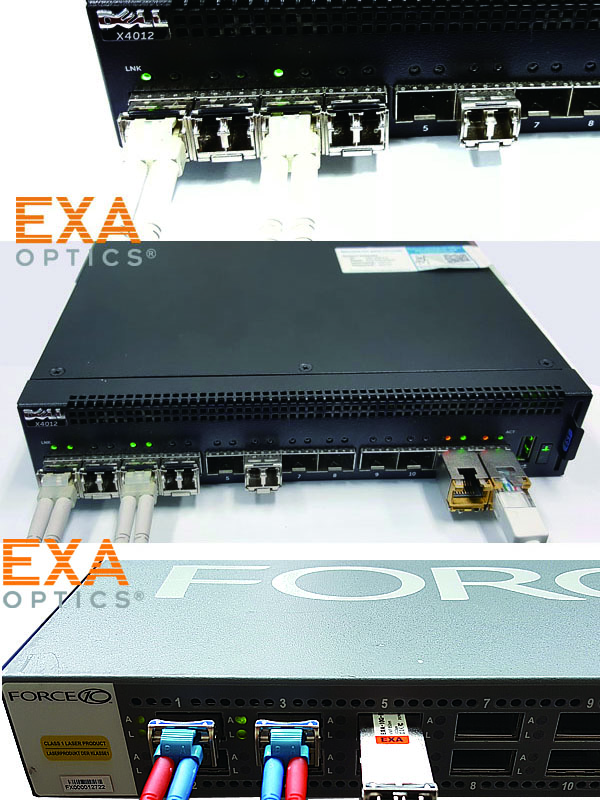 *제품외관은 변경될 수 있습니다.